[This landing page follows the DataCite Metadata Scheme (doi:10.5438/0010) for DOI generation.]
Identifier
doi:10.5676/DWD_EMIR/V002
identifierType
DOI
Creator
Bennartz, Ralf; Stengel, Martin; Schröder, Marc; Hollmann, Rainer; Picard, Bruno; Fell, Frank
Title
Total column water vapour from the Microwave Radiometer (MWR) instruments onboard ERS-1, ERS-2, and ENVISAT
Publisher
Deutscher Wetterdienst (DWD)
PublicationYear
2018
Subject
551 Geology, hydrology, meteorology
subjectScheme
Dewey Decimal Classification (DDC)
contributerType
Funder
contributerName
European Space Agency (ESA)
Date
2018-07-10
dateType
Available
geoLocationPlace
Global ice-free ocean
resourceType
Research Data
resourceTypeGeneral
Dataset
Format
NetCDF CF-1.6
Geophysical parameters
Brightness temperatures at 23 GHz and 36 GHz
Total column water vapour
Wet tropospheric path delay
Cloud liquid water path
File size
Level-2 data files comprise one calendar day (00:00 to 24:00 UTC) of orbital data from one instrument (ERS-1, ERS-2, or Envisat) at native spatial resolution (typically 20 km) and have a size of ca. 2.0 MB.
Level-3 data files comprise global gridded monthly mean values, cover the full time series and amount to 57.6 MB at 2° × 2° and 25.6 MB at 3° × 3° resolution, respectively.
Versions
Version 1.0. Initial version of the EMiR data record.
Version 1.1. It improves on version 1.0 by providing additional meta information to support user-specific quality assurance procedures while the geophysical information is unchanged. The differences between EMiR versions 1.0 and 1.1 are outlined in more detail in the EMiR V1.1 Product Description.
descriptionType
Abstract

Description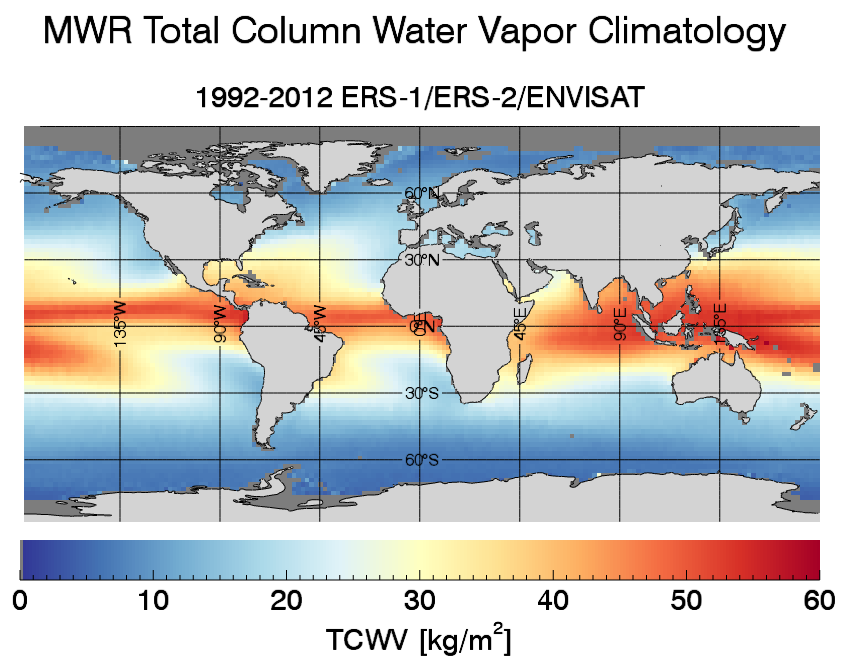 The Microwave Radiometer (MWR) flown onboard ERS-1, ERS-2, and Envisat has provided a time series of global microwave observations over a period of nearly 21 years between 1991 and 2012. A successor instrument (also called MWR) with very similar characteristics is carried onboard the Sentinel-3 satellites, two of which have meanwhile been launched (Sentinel-2A in February 2016 and Sentinel-3B in April 2018). After a gap of ca. four years, MWR observations are thus again available from early 2016 well into the mid-2020s and beyond. While the EMiR V1.1 data record described herein only covers the ERS-1, ERS-2, and Envisat missions, future extension is envisaged by additionally considering MWR observations from the Sentinel-3 satellites.

The EMiR dataset builds on the MWR time series of brightness temperature observations in the two channels at 23 and 36 GHz and provides information on Total Column Water Vapour (TCWV) and Wet Tropospheric Correction (WTC) in clear and cloudy sky conditions over the global ice-free oceans. A one-dimensional variational approach (1D-VAR) has been applied to derive TCWV from MWR observations and ERA-Interim background information. A particular focus during product generation has been put on the intercalibration and homogenisation of the three different MWR instruments, which has been achieved by constraining Liquid Water Path (LWP) and TCWV retrievals. By comparison with TCWV derived from the Global Navigation Satellite System (GNSS), we find that the MWR-derived TCWV values are accurate and stable over time (see the EMiR validation report).

The EMiR dataset is provided for individual orbits at MWR's native spatial resolution of typically 20 km (Level-2) as well as in a gridded form providing monthly mean values at spatial resolutions of 2° × 2° and 3° × 3° (Level 3).
Known issues

There are a number of gaps in the EMiR dataset, especially during the early ERS-1 years between 1991 and 1994. An inventory of all gaps lasting longer than one full calendar day can be found in the EMiR V1.1 Product Description.
There are a number of Level-2 files containing only fill values for the retrieved products TCWV, LWP, and WTC. These files are equally listed in the EMiR V1.1 Product Description.
The gain drop occurring in the 23 GHz channel on 1996/06/26 (ERS-2) has not been flagged in the Level-3 datasets. Please keep in mind that L3 data from June and July 1996 may be of low quality.
Closer than ca. 50 km to the coastline, the product quality is reduced due to "land contamination", i.e. by light pollution from the nearby bright land surfaces.
Product quality is also reduced in the presence of heavy precipitation. The information on the liquid water path provided in the data record may help to identify the affected observations.
Data access
Supporting documents

The EMiR validation report provides a detailed analysis of the performance of the EMiR data record by comparing the retrieved TCWV against independent ground-based and space-based TCWV observations.
The EMiR data record is presented in more detail in the following publication:
Bennartz, R., Höschen, H., Picard, B., Schröder, M., Stengel, M., Sus, O., Bojkov, B., Casadio, S., Diedrich, H., Eliasson, S., Fell, F., Fischer, J., Hollmann, R., Preusker, R., and Willén, U.(2017): An intercalibrated dataset of total column water vapour and wet tropospheric correction based on MWR on board ERS-1, ERS-2, and Envisat, Atm. Meas. Tech., 10, 1387-1402, 10.5194/amt-10-1387-2017.
The EMiR data record has been compared to other long-term total column water vapour data records in the context of the GEWEX Water Vapor Assessment (G-VAP) exercise, described in detail in:
Schröder, M., Lockhoff, M., Fell, F., Forsythe, J., Trent, T., Bennartz, R., Borbas, E., Bosilovich, M. G., Castelli, E., Hersbach, H., Kachi, M., Kobayashi, S., Kursinski, E. R., Loyola, D., Mears, C., Preusker, R., Rossow, W. B., and Saha, S. (2018): The GEWEX Water Vapor Assessment archive of water vapour products from satellite observations and reanalyses, Earth Syst. Sci. Data, 10, 1093-1117, DOI: 10.5194/essd-10-1093-2018.
How to cite the EMiR data record?
Bennartz, R., M. Stengel, M. Schröder, R. Hollmann, B. Picard, and F. Fell (2016): Total column water vapour from the Microwave Radiometer (MWR) instruments onboard ERS-1, ERS-2, and ENVISAT, doi:10.5676/DWD_EMIR/V002.
Data protection policy
Please take note of DWD's data protection policy under https://www.dwd.de/EN/service/dataprotection/dataprotection.html.
Disclaimer
The EMiR dataset was assembled as a service to the atmospheric and oceanic research community. No warranties to the correctness and accuracy of the information therein can be made.